Water-Based Clay
Air-dry clays are all water-based, although the rest of their ingredients can vary a huge amount as well as the characteristics of each. Many air-dry clays can be made at home, and some can be purchased. Air-dry clays all "dry" to harden because they're water-based.
Type of water-based clay: Air-dry clay, Cream clay, Wood clay, Resin clay, Foam clay
Feature: Air dry, Easy to mix color, Easy to clean up, Easy to shape, Non-toxic, Safety.
Oil-Based Clay
Type of oil-based clay: Modeling clay, Oil Modeling clay.
Feature: Reusable, Never Dry, Colorful, Easy to shape, Safety.
How to use oil modeling clay?
Oil clay has a smooth, high plasticity texture and features a low melt temperature, which can be shaped and molded easily.

Oil modeling clay usually is used as teaching material. Kneading clay helps to develop and strengthen the muscles of children's hands and fingers.

When the modeling clay sets up, it will be firm enough to hold fine detail. It is suitable for molding prototypes and making sculptures

Our modeling clay is sulfur-free, which is compatible with platinum silicone molding compounds.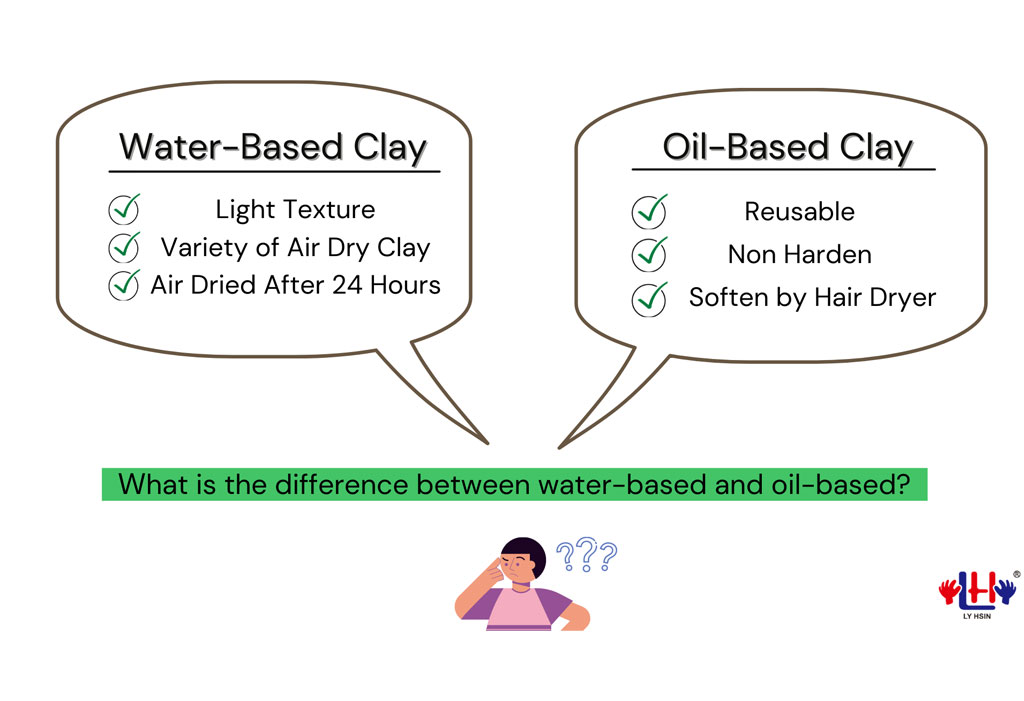 Difference between water-based clay and oil-based clay
The difference between the two is the water-based clay will be air dry and oil-based clay will not dry and can be reused. All types of clay will vary in softness and hardness due to weather changes. If water-based clay feels a little hard during use, you can add some water to soften it, and oil-based clay can be softened by using a hairdryer. 
Professional High-Quality Clay, Extend the Creativity, Imagination, And Shaping.
If you are interested in our info welcome to Alibaba / Amazon or just leave a message to us.